The Taj Mahal, located in Agra, is an architectural marvel. It is one of the most famous places to visit in India and when you arrive on private Taj Mahal guided tours, you understand completely why it is one of the Seven Wonders of the world.
It is not only the allure of its splendour that will have you mesmerize on the many sightseeing tours Taj Mahal offers, but it is also the romantic story behind its creation.
This white marble, symmetrical, monument is majestic to look at, especially from the main gateway as you arrive on Private Taj Mahal Tours. There is a beautiful view of the mosque with guest house on the sides and the four minarets at each corner.
The interior is just as impressive to discover on Taj Mahal private cultural tours. It is very grand, symmetrical and a joy to experience including the tombs.
Finally, if the monument was not enough, there are the symmetrically laid out gardens to wander on Taj Mahal walking tours.
When deciding to visit here, you should really plan to do it with private Sunrise Taj Mahal Tours. It is the most spectacular time of the day to see this wonder in all its glory and romantic too!
It Is Worth the Early Start to See the Beauty on Private Sunrise Taj Mahal Tours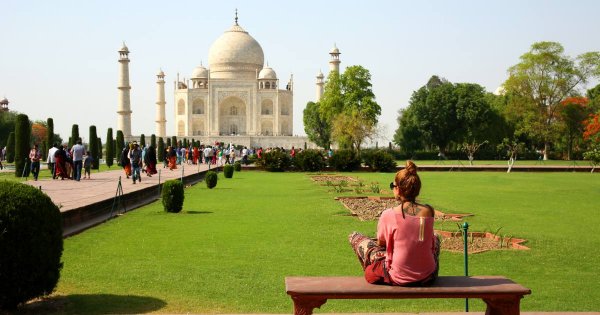 The Romantic tale behind the construction of the Taj Mahal begins in 1607 with a 14-year-old Shah Jahan who was the son of the fourth Mughal emperor in India, catching a glimpse of 15-year-old Muslim Persian Princess, Arjumand Banu Begum and falling in love at first sight with her. In 1612 their match was solemnised.
In 1628 after becoming Emperor, Shah Jahan entrusted Arjumand Banu with the royal seal and gave her the title Mumtaz Mahal which means "Jewel of the Palace".
While Shah Jahan had other wives, Mumtaz Mahal was his favourite and she went everywhere with him including on military campaigns.
Due to complications when giving birth to their 14th child, Mumtaz Mahal died. It was on her deathbed that Shah Jahan made the promise never to remarry and to build the finest mausoleum above her grave.
After 22 years and 22,000 workers, the worlds most beautiful mausoleum was finished and holds the side by side tombs of Shah Jahan, who died in 1666, and Mumtaz Mahal
Top 10 Things to See and Do in Taj Mahal
The Taj Mahal at Sunrise
1
There are many excellent private sunrise Taj Mahal tours available from Agra and even as far as Delhi and beyond. The spectacular view is worth how ever long a journey it takes to get here. Another advantage to visiting at this time of the day is the clearer skies and fewer crowds. The colours of the sun reflecting on the monument are stunning changing it from white to some pink.
Taj Mahal Cultural Tours
2
There is so much history and culture to learn about when you go on Taj Mahal cultural tours. With your very knowledgeable tour guide, you are brought through the different areas of this magical building. It is on these tours you get the true sense of what it took to build this monument, but when you see the attention to details in the features and design, you can appreciate it.
Gardens of the Taj Mahal
3
The stunning gardens should not be missed when on any of the sightseeing tours Taj Mahal. It starts from the end of the main gateway and comes to and ends close to the mausoleums squared base. It is in the style of Persian Timurid, based on a Paradise Garden concept. In this symmetry garden, you will find lots of fruits, flowers and birds. There are four walkways from which you can take excellent pictures.
Taj Mahal on a Full Moon Night
4
If you are lucky enough to be in an area of India which will give you the opportunity to travel to Agra to experience Private Taj Mal tours on a night there is a full moon, you should not miss it. The Taj Mahal is already regarded as a very romantic place to visit, but on an evening of a full moon, it is even more so. To see the full moon rise behind the Taj Mahal is an unforgettable and mesmerising sight.
Sunset at the Taj Mahal
5
When or if you have experienced private sunrise Taj Mahal tours, then you should really experience the Taj Mahal at sunset too. The best place to do this is from the gardens of "Baby Taj" Mehtab Bagh which is located across the river from the Tal Mahal. As the sun begins to set the Taj Mahal can change colour to a fiery yellow or exotic orange and looks even more beautiful.
Private Taj Mahal Tours
6
There is an abundance of private Taj Mahal tours available all over India. It is a very popular tour to do from Delhi Jaipur and Agra. These three cities are called the Golden Triangle due to there location to each other. To travel from Delhi it takes 3-4 hours but all tours are with luxury, comfortable and air-conditioned vehicles. From Jaipur to Agra it is approximately 4 hours by car.
Taj Mahal Walking Tours
7
Enjoy the one of the many different Taj Mahal walking tours. There is a lot of walking possible if you were to walk the entire gardens and mausoleum. Once you wear comfortable footwear, you will have a lovely time especially as you walk the four pathways in the gardens. As with any tour you do with a tour guide, you learn fascinating information and see different areas you would miss without a guide to show you.
Taj Mahal from Delhi by High Speed Train
8
Travel from Delhi to experience private Taj Mahal guided tours in the comfort of a high-speed train. On this tour, you will have transfers to and from your Delhi hotel to railway station, breakfast served in the comfortable, fast train, a tour guide to meet you in Agra to bring you to see the fabulous Taj Mahal and any other famous attractions. Return to Delhi by the same train with dinner served as you travel back.
Taj Mahal and Yoga
9
Experience different types of private Taj Mahal tours when in Agra. A very popular tour is one where you can enjoy practising Yoga with the breathtaking view of the Taj Mahal. On this private tour, you are brought to the ideal location, cover the yoga basics such as Pranayam, Asanas and Dhyanas while looking out onto the Taj Mahal. This is a very relaxing and very enjoyable unique experience in Agra.
Taj Mahal and Food in Agra
10
When you are in Agra on full day Private Taj Mahal guided tours, you will need to eat and there are many famous Agra eateries to experience. Some Taj Mahal walking tours include bringing you to taste delicious local food. On these tours, not only will you get to taste the food, learn how traditional dishes are prepared but be told the history and fascinating tales of the oldest eateries in Agra.
Travel Tips for Taj Mahal
Best Time To Visit Taj Mahal
There is no bad time to do private Taj Mahal guided tours. However, it is closed every Friday. The best time of the year to visit is said to be from October to March as the weather is relatively cooler. The best time of the day to visit is at Sunrise and sunset when the sun travels and the Taj Mahal changes in colour from white to soft grey, pink, soft red or exotic orange and fiery yellow. A special time to visit is when there is a full moon.
Typical Costs in Taj Mahal
The costs of visiting the Taj Mahal depends on a lot of different factors. For instance the type of private Taj Mahal tours you choose, the time of the year down to the time of the day. The prices of the tours will vary from peak season to low season and the duration of the tour. The sunrise and sunset tours might be more expensive but worth every cent. The range of tours on offer includes luxury to budget to suit all types of travellers.
Know Before Visiting Taj Mahal
The most important thing to know is that the Taj Mahal is closed every Friday. While there is no official dress code, when visiting on Taj Mahal private cultural tours it is good to remember that India, in general, is a deeply religious country and to be respectful, shoulders should be covered and trousers or skirts should go past the knee. For a contrast in pictures, you should wear colourful clothing. Selfie sticks and tripods are not allowed inside.
Weather during the months April to October can be scorching hot and uncomfortable especially during April to June, it is best to avoid these times if you are not a heat lover. For Taj Mahal Walking tours, you should only do these after October when the Monsoon season ends and temperatures are more comfortable. The temperatures in December and January can drop to as low as 2º Celsius so be sure to take warm clothing with you.